Codename : Blackhole Session IPA
I found an IPA that seemed to match my interests, I adjusted water requirements from the original recipe, I also took some liberties with the hops and yeast selection. Word to the wise, do not use this recipe.
Recipe inspiration, https://www.beercraftr.com/1-gallon-black-ipa-recipe/
Ingredients
2.25 lbs Maris Otter

4 oz Munich dark

2.5 oz chocolate malt

2.5 oz caramel malt

0.25 oz Challenger hops at 55 minutes

0.25 oz Challenger hops at the end of the boil

0.5 oz Fuggle hops at the end of the boil

0.40 oz East Kent Golding, dry hop at 5 days

0.50 oz Fuggle hops, dry hop at 10 days

5 ml Verdant IPA yeast
Vital Stats
Anticipated 32 IBU
Anticipated 5% ABV
Target OG : 1.062
Target FG : 1.015
Brew Day
7 litres strike water, 163 F.

Add the grains to the bag.

Place the bag in the hot water, set the timer for 90 minutes, and maintain the temperature at 156 F.

Prepare 2 L sparge water, 170-180 F.

Mash out, raise the temperature to 168 for 7 minutes.

Lift the bag out of the pot, allow it to drip into the pot. Sparge.

Bring wort up to 212F to boil for 10 minutes, then bring down to 210 F.

Add first hops 5 minutes after temperature is reached, complete boil time is 60 minutes.

Sanitise everything required for fermentation.

Add the next two hops at the end of the boil.

Cool to room temp,

an ice-bath or a snowbank work effectively

Prepare yeast mixture.

Add wort to the jug. Pitch yeast.

Store cool for bottle conditioning for 14-21 days.
Follow up
5 days later, add East Kent Golding hops.

5 days later, add Fuggles hops.
Bottle Day
Sanitise everything required for bottling.

Transfer from carboy to bottling pot.

Prepare 17g corn sugar with enough hot water to dissolve it. Add to pot.

Bottle.

Preferably conduct secondary fermentation for at least 4 weeks. 
Brew Notes.
I have a refractometer now, I call it my sonic screwdriver. I can get gravity readings. Measured OG was 1.040. That is lower than expected. Mistakes were made, rookie errors that contributed to brewhouse inefficiency. Hopefully 3.5% ABV.

Absentmindedly added the starting hops to the steeping grain, CF above statement about rookie errors.

One litre of wort remained after transferring to the carboy.

7 litres of strike water seemed like too much, try 6 next time.

Dry hopped at 5 days, measured SG, 1.029, currently makes it about 1.5% ABV.
Dry hopped at 10 days, measured SG, 1.028, currently makes it about 1.6% ABV.
Bottling day, measured SG, 1.021, that gives a potential 2.5% ABV. In theory, another .2 for bottle conditioning.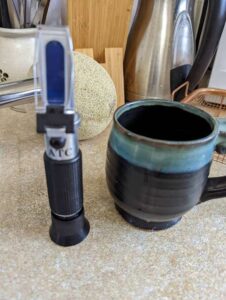 Tasting notes
As mistakes were made, the alcohol content is not there, ergo the session in the title. For the basic hoppiness I like in a beverages, this one does hit the mark.
Brew day : 29-Jan-2022
Bottling day : 11-Feb-2022
NFT : https://opensea.io/assets/0x495f947276749ce646f68ac8c248420045cb7b5e/98547572266092688542004199927995955645241771819026625145362064307634034442241/