Codename
: Mountain Portage Juniper Wild Rice Ale
This is part of my ongoing efforts to vary the recipe, base and specialty malts are only there to justify the flavour of the wild rice.
Ingredients
1 lb Maris Otter Malt

5 oz rolled oats

2 oz roasted barley
1 oz black malt
4 oz cooked wild rice
1/4 oz dried juniper berries
0.2 oz East Kent Golding hops at 60 minutes
0.1 oz East Kent Golding hops at 15 minutes

¼ Whirlfloc tablet at 10 minutes (optional)

0.1oz East Kent Golding hops  hops at 0 minutes
4 ml Nottingham Ale dry yeast
Anticipated IBU : 24
Anticipated ABV : 4.2%
Target OG : 1.042
Target FG : 1.010
Brewhouse (in)efficiency : 65%
Prepare 6L strike water, 154F.

Add the grains & wild rice  to the bag.

Calibrate sonic screwdriver.

Place the bag in the hot water, set the timer for 75 minutes, and maintain the temperature at 149 F. Looking for a minimum SG 1.033

Lift the bag out, allow it to drip into the pot. Capturing every bit of potential sugar is good.

Bring wort up to 205F.

Set the timer for 60 minutes. Add hops and Whirlfloc at the prescribed times above. Looking for a minimum SG 1.042

Sanitise everything required for fermentation.

Cool to room temp, an ice-bath or a snowbank work effectively.

Prepare yeast mixture.

Add wort to the jug. Pitch yeast.

Store in a cool place for primary fermentation for 14-21 days.
Bottling Day
Sanitise everything required for bottling.

Transfer from carboy to bottling pot.

Prepare 19g corn sugar with enough hot water to dissolve it. Add to pot.

Bottle.

Preferably conduct bottle conditioning for at least 4 weeks. 
Brew Notes
Pre-boil SG, 1.033, post-boil SG, 1.042.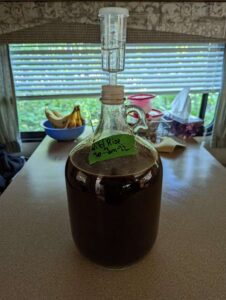 Tasting notes to follow
Brew day : 30-Jun-2022
Bottling day : 14-Jul-2022