Codename : Westfort Fluffy Cow Imperial Stouthorpe Pilot
Having had good success with other Imperial Stouts, I decided to elevate my game, and try a bourbon stout, using oak chips and bourbon. In this case, I acquired a bottle of Buffalo Trace, to kick things up. Ergo the clever name 🙂
As there is an increased cost of resources to make this batch, I decided to scale it down by one half, and call it a pilot batch. Just in case it doesn't work, the cost of the experiment is not outrageous.
Recipe inspiration : David Heath's Bourbon Stout
Ingredients
1 lb 5 oz Golden Promise pale malt (2.4L)

3 oz Oatmeal
1 oz Chocolate malt (300L)
1 oz Caramel malt  (120L)
1 oz Roasted barley (400L)
0.5 oz Carafa Special III (525L)
0.5 oz Torrified wheat (1.5L)

0.30 oz Cascade hops at 30 minutes

0.5 oz Maltodextrin at 20 minutes
1/4 tsp yeast nutrient at 15 minutes

1/4 tsp Irish Moss (optional) at 15 minutes

0.10 oz Chinook hops at 15 minutes

3 ml Mangrove Jack New World Strong Ale dry yeast

5 g oak chips
50 ml bourbon
Vital Stats
BJCP Style : Imperial Stout
Anticipated ABV : 8.1% (possibly 12% after fortified)
Anticipated IBU : 41
Anticipated SRM : 37
Pre-boil SG : 1.056
Original SG : 1.084
Target SG : 1,022
Brewhouse (in)efficiency : 65%
Brew Day
Prepare 4.3L strike water, 152F. 

Add the milled grains to the bag. 

Place the bag in the hot water, set the timer for 75 minutes, and maintain the temperature at 152F.

Stir occasionally.
Calibrate the sonic screwdriver.

Lift the bag out of the water, and allow it to drip into the pot. Every bit of sugar that can be extracted will benefit the end ABV.

Bring up to a boil, 212F, set the timer for 30 minutes. Add hops, Maltodextrin, yeast nutrient, and Irish moss, as prescribed above.

Sanitise everything required for fermentation.

Cool to room temp, an ice-bath or a snowbank work effectively.

Prepare the yeast mixture.

Pitch the yeast to the carboy.

Transfer the wort to the carboy, splash the wort around to aerate the contents.

Store in a cool dark place for primary fermentation for 14 days.

On day 7, add 5 grams of oak chips to a mason jar, cover with 50 ml of bourbon. Agitate daily to allow the bourbon to infuse with the oak chips
Bottling Day
Prepare 0.4 oz corn sugar.

Filter bourbon mixture through a coffee filter to ensure oak splinters do not enter the bottling pot.
Bottle condition at least 6 weeks.
Brew Notes
I have loaned out my grain mill, and have resorted to using a food processor to grind the grain, this has hampered my BHE, adjusted the recipe to 66%
The late mash gravity was short, 1 oz of white sugar was added. I might have short-changed the base malt measurement.
The late boil gravity was also short, an additional 20 minutes were added to the boil.
The gravities were made.
With the addition of the bourbon, the anticipated ABV will be about 12%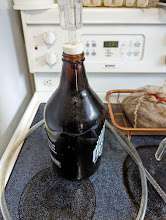 Brew day : 26-April-2023