Beer Review – Pas St. Ambroise
Beer Review : Pas St. Ambroise
Back in October 2022, I brewed an oatmeal stout modelled after McAuslan Brewery's St Ambroise. As my beer title suggest, Not St. Ambrose. I have the original, and mine, so I will be able to compare them side-by-side. I came into this with an open mind, but also with the sense mine would not quite stack up.
Some introductory pictures to start.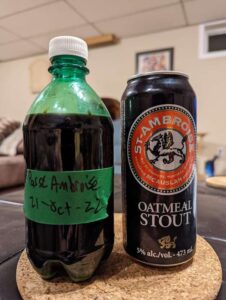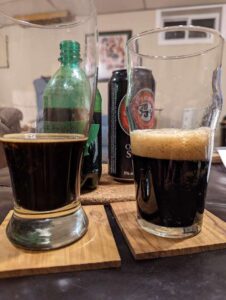 The Look
The dark colour is close enough to my eye, to say they are the same.
The head on the original is very full, and beige in colour. The head on mine, much thinner, and brown. Advantage : the original.
The Smell
On the nose, the malts and hop aroma, close enough to say the same.
The Feel
The original has a smooth, silky mouthfeel. Mine is a little harsh, not quite as smooth nor silky. Advantage : the original
The finish on on mine was good, but the original lasted just a little longer. Advantage : the original
The Taste
The original simply sets the standard. Yummy. I think that is an official beer judging term 🙂
The chocolate is much more prominent, and has a taste that borders perilously on being burnt. Still yummy to me.
You guessed it, advantage : the original
Summary
Overall impression, as an oatmeal stout, I enjoyed it very much as it's own beverage. As a "knock off", it comes close, but not quite. I will adjust the recipe and brew this one again, try to bring down the harshness and and match the smoothness with some longer ageing, both in the carboy and bottle conditioning.