Codename : Mountain Portage Wild Rice Ale
I have returned to another wild rice ale. This one had been prepared to use up most remaining stock, so it is a helter-skelter of ingredients. Since I have brewed this one at Kakabeka Falls, the name is a tribute to the voyageurs who had to get their canoe and gear past the falls using what they called, the Mountain Portage.
Ingredients
14 oz pilsner malt

5 oz 2 row barley malt

3 oz rolled oats

2 oz chocolate barley 300L
2 oz caramel malt 120L
2 oz dark munich malt 8L
2 oz rye malt
4 oz cooked wild rice
0.2 oz East Kent Golding hops at 60 minutes
0.2 oz East Kent Golding hops at 15 minutes

¼ Whirlfloc tablet at 10 minutes (optional)

0.2 Fuggles hops at 0 minutes
4 ml Nottingham Ale dry yeast
Anticipated IBU : 30
Anticipated ABV : 4.1%
Target OG : 1.047
Target FG : 1.016
Brewhouse (in)efficiency : 65%
Brew Day
Prepare 7L strike water, 154F.

Add the grains & wild rice  to the bag.

Calibrate sonic screwdriver.

Place the bag in the hot water, set the timer for 75 minutes, and maintain the temperature at 149 F. Looking for a minimum SG 1.030

Lift the bag out, allow it to drip into the pot. Capturing every bit of potential sugar is good.

Bring wort up to 212F to boil for 10 minutes, then bring down to 205-210 F.

Set the timer for 60 minutes. Add hops and Whirlfloc at the prescribed times above. Looking for a minimum SG 1.047

Sanitise everything required for fermentation.

Cool to room temp, an ice-bath or a snowbank work effectively.

Prepare yeast mixture.

Add wort to the jug. Pitch yeast.

Store in a cool place for primary fermentation for 14-21 days.
Bottling Day
Sanitise everything required for bottling.

Transfer from carboy to bottling pot.

Prepare 24g corn sugar with enough hot water to dissolve it. Add to pot.

Bottle.

Preferably conduct bottle conditioning for at least 4 weeks. 
Brew Notes
Pre-boil SG, 1.029, post-boil SG, 1.049.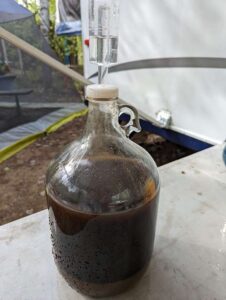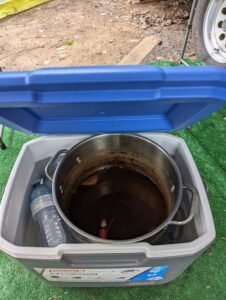 Brew day : 2-Jun-2022
Bottling day : 16-Jun-2022