Codename : Ukrainian Imperial Stouthorpe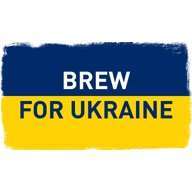 I have slowly been building up to an Imperial Stout since I started home brewing. Back in April, when I was researching , I discovered the Victory Beer Series from Pravda Brewing in Lviv, Ukraine. I scaled down the recipe, and altered a few ingredients for what I had in inventory.
Recipe inspiration 
Ingredients
3 lb Maris Otter malt

3.5 oz Roasted Barley (30

0L)

2.5 oz Caramel malt (120L)
2.5 oz Flaked oats
0.5 oz Black malt (625L)

0.20 oz Cascade hops at 60 minutes

0.20 oz Cascade hops at 45 minutes

0.20 oz Cascade hops at 20 minutes

2 oz Table sugar at 20 minutes

¼ tsp Irish Moss (optional) at 15 minutes

1/2  tsp yeast nutrient at 15 minutes

0.20 oz Cascade hops at 5 minutes

6 ml Nottingham Ale yeast
Vital Stats
Anticipated IBU : 59
Anticipated ABV : 10%
Anticipated SRM : 36
Target OG : 1.098
Pre-boil SG : 1.063
Target FG : 1,022
Brewhouse (in)efficiency : 70%
Brew Day 
Prepare 7.8L strike water, 155F. 

(My stockpot would have overflowed with these proportions, so I did Dunk'n'Sparge between two pots.)

Add the milled grains to the bag. Double check you included all the ingredients (this is foreshadowing)

Place the bag in the hot water, set the timer for 75 minutes, and maintain the temperature at 152 F.

Calibrate the sonic screwdriver.

Lift the bag out of the water, and allow it to drip into the pot. Every bit of sugar that can be extracted will benefit the end ABV.

Bring up to a boil, 212F, set the timer for 60 minutes. Add hops, sugar, yeast nutrients and Irish Moss as prescribed above.

Sanitise everything required for fermentation.

Cool to room temp, an ice-bath or a snowbank work effectively.

Prepare yeast mixture.

Add wort to the jug. Pitch yeast.

Store in a cool place for primary fermentation for 14-21 days.
Bottling Day
Sanitise everything required for bottling.

Transfer from carboy to bottling pot.

Prepare 19g corn sugar with enough hot water to dissolve it. Add to pot.

Bottle.

Preferably conduct bottle conditioning for at least 8 weeks. You can crack one open early, but you might be disappointed. You have been warned.
Brew Notes
It has been a while since I made this declaration. Mistakes were made. CF statement about double checking all ingredients were added. I forgot to add the Oatmeal flakes, not only does this contribute to some sugar conversion, but it is an integral step in head retention. Regrettably I did not know what mistake I made until much later.
I was doing the dunk'n'sparge, and was not able to track the gravity accurately. It was not until I combined the two pots I noticed the pre-boil gravity was off. I incrementally added one ounce of corn sugar early in the boil until I reached 1.060. Three ounces in total.
Post boil gravity was 1.096, so at best, this will likely be more like 9.8% ABV.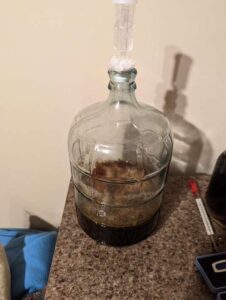 Help the people of Ukraine
The last 8 years in Ukraine have been tumultuous, tensions were further escalated late in February of 2022. Between the pandemic and the fallout of the invasion of Ukraine, we have all been living in tough economic times. If it is within you means, please consider making a donation to help the Ukrainian government, and the people. Below is just a small list of ways to make a difference
I have not been asked to solicit these donations, nor do I benefit in any way, it is just a small bit I have personally done to aid the Ukrainian plight.
Brew day : 20-Oct-2022
Bottling day : 3-Nov-2022