Codename : Mountain Portage Londinium Alethorpe
Doing my own research, I was looking for other styles of the British Isles, and discovered a rare one called a London Brown Ale. It tends to be very low alcohol, in the 3% range, brownish in colour, and a little sweet. This is my first attempt!
Ingredients
15 oz Maris Otter (3.8L)
3 oz Crystal dark malt (100L)
2 oz Caramel malt (120L)
2 oz Oatmeal (1.3L)
2 oz Pale chocolate malt (225L)

0.2 oz Sasquatch hops at 30 minutes

1 oz Lactose sugar at 20 minutes

1/4 tsp Irish Moss (optional) at 15 minutes

2 ml London dry ale yeast.
Vital Stats
BJCP Style : London Brown Ale
Anticipated ABV : 3.2%
Anticipated IBU : 17
Anticipated SRM : 28
Pre-boil SG : 1.027
Original SG : 1.038
Target SG : 1.014
Brewhouse (in)efficiency : 67%
Brew Day
Prepare 6.4L strike water at 158F.

Add the milled grains to the bag.

Place the bag in the hot water, set the timer for 75 minutes, and maintain the temperature at 158F.

Stir occasionally.
Calibrate the sonic screwdriver.

Lift the bag out of the water, and allow it to drip into the pot. Every bit of sugar that can be extracted will benefit the end ABV.

Bring up to a boil, 212F, set the timer for 30 minutes. Add hops, lactose and Irish moss, as prescribed above.

Sanitise everything required for fermentation.

Cool to room temp, an ice-bath or a snowbank work effectively.

Prepare the yeast mixture.

Pitch the yeast to the carboy.

Transfer the wort to the carboy, splash the wort around to aerate the contents.

Store in a cool dark place for primary fermentation for 10-14 days.
Bottling Day
Prepare 0.8 oz corn sugar.

Bottle condition at least 4 weeks.
Brew Notes
Tips to perspective brewers, doing other research, I found recommendations to use crystal malts above 80L, and to utilise 20-25% crystal malts in the grain bill.
The higher mash temp is chosen to make the wort more dextrinous, that is sweeter.
Some brewers use lactose to help get the wort sweeter, I followed suit.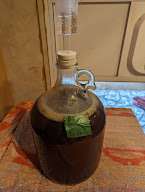 Brew day : 15-Sept-2023