Finnish Style Farmhouse Ale
Codename : kotitila kippis
Thunder Bay has a well established Finnish population, so this seemed like a natural progression in making a traditional Finnish style farmhouse ale. This is a brew that pays homage to an older form of raw ale from Finland. Word to the wise, do not use this recipe.
Recipe inspiration
Ingredients
2.25 lbs pilsner malt
1 lb Munich malt
8 oz rye malt
¼ oz juniper berries
5 ml bakers yeast
Anticipated IBU : nominal
Anticipated ABV : 7.6%
Target OG : 1.078
Target FG : 1.019
Brew Day 
Prepare 4.1L strike water, 60F (15C).
Combine grains and berries in the bag.
Place the bag in the warm water for 45-60 minutes.
Raise temperature to 70F (21C) for 45-60 minutes.
Raise the temperature to 80F (27C) for 45-60 minutes.
Prepare 2L sparge water, 80-90F (27C).
Lift the bag out of the pot, allow it to drip into the pot. Sparge up to one gallon.
Cool to room temp, an ice-bath or a snowbank work effectively.
Sanitise everything required for fermentation.
Prepare yeast mixture.
Add wort to the jug. Pitch yeast.
Store in a warmer location during active fermentation for 2-3 days, then move to a cooler location for 7-10 days.
Bottling Day
Sanitise everything required for bottling.
You can bottle directly from the carboy.
Refrigerate to preserve the taste, and to prevent souring.
Ready to drink immediately.
Brew Notes
4.1L start water was not enough, try 6-7L next time
2L sparge water was too much, missed the target gravity by over sparging. OG measured at 1.035.
Lesson learned from all these batches, sparging with one gallon brew in a bag (BIAB) only dilutes the wort.
My sonic screwdriver no longer works, unable to ascertain the gravity, casual sample during bottling, unscientifically 3-4% ABV.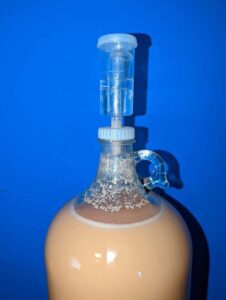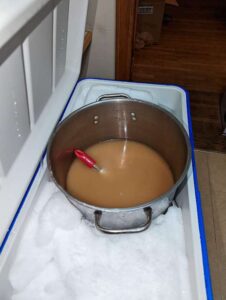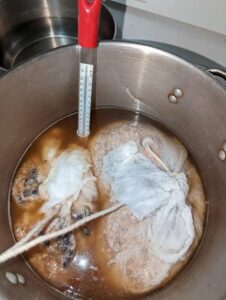 Tasting notes
Initial tasting during bottling, it is light like a lager, and somewhat sour.
Had a proper sample, this beer is quite sour, and much to my surprise, has a nice long finish.
Brew day : 11-Feb-2022
Bottling day : 22-Feb-2022
NFT : https://opensea.io/assets/0x495f947276749ce646f68ac8c248420045cb7b5e/98547572266092688542004199927995955645241771819026625145362064308733546070017/