Codename : The Hoppier the Bitter IPA
Cranking this IPA up to 80+. Word to the wise, don't use this recipe.
Ingredients
2.25 lbs Maris Otter Malt

1 oz Caramel Malt 

1 oz chocolate malt

0.20 oz Chinook Hops at 60 minutes

0.20 oz Challenger hops at 30 minutes

0.10 oz East Kent Golding hops at 20 minutes

¼ whirlfloc tablet at 15 minutes

0.10 oz East Kent Golding hops at 0 minutes

5 ml Verdant IPA yeast
Vital Stats
Anticipated IBU : 83
Anticipated ABV : 5.5%
Target OG : 1.054
Target FG : 1,012
Arbitrary Brewhouse (in)efficiency : 60%
Brew Day 
Lesson learned from last batch, calibrate sonic screwdriver prior to measurements.

Prepare 9L strike water, 154F.

Add the grains to the bag.

Place the bag in the hot water, set the timer for 90 minutes, and maintain the temperature at 149F. Stir regularly. Looking for SG of at least 1.027.

Mash out, raise the temperature to 167F for 10 minutes.

Lift the bag out of the pot, allow it to drip into the pot.

Bring wort up to 212F to boil for 10 minutes, then bring down to 210F.

Add hops as prescribed above. Add whirlfloc with 15 minutes remaining. Looking for SG of at least 1.052.

Sanitise everything required for fermentation.

Cool to room temp,

an ice-bath or a snowbank work effectively.

Prepare yeast mixture.

Add wort to the jug. Pitch yeast.

Store in a cool place during vigorous fermentation, 2-3 days, then move to a warmer location for 2-4 days for diacetyl rest. Then return to the cool place. The beer can be bottled after 14-21 days.
Bottling Day
Sanitise everything required for bottling.

Transfer from carboy to bottling pot.

Prepare 19g corn sugar with enough hot water to dissolve it. Add to pot.

Bottle. Store upright in a cool location.

Preferably conduct bottle conditioning for at least 2-4 weeks. 
Brew Notes
Preboil SG 1.021

Post boil SG 1.045

New mistakes were made, I misjudged the boil off rate, so I added about 30 minutes to hit the anticipated one gallon. 8L would probably have been better.

FG 1.019, so 3.3% ABV. Still missed the mark 🙁
Changing the brewhouse efficiency to 55% for subsequent batches, this means increasing the grain to try get more sugar.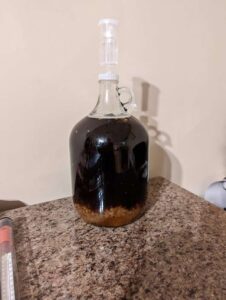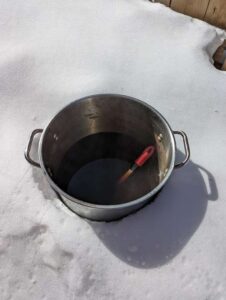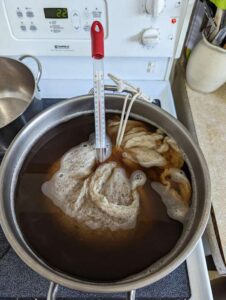 Tasting notes
sample during bottling, there is no perception the 80 IBU was achieved, but it still has a great hoppy taste.
Brew day : 12-Mar-2022
Bottling day : 23-Mar-2022
NFT : https://opensea.io/assets/0x495f947276749ce646f68ac8c248420045cb7b5e/98547572266092688542004199927995955645241771819026625145362064310932569325569/