Codename
: Molasses Porridge
Once the beer has been made what does one do with the spent grain? Make a hearty breakfast. With this one, going with a truly Canadian variant by using some Red River Cereal and molasses.
Recipe Inspiration : Westfort Robbie Burns Alethorpe
Ingredients
3/4 cup spent grain
1/2 cup steel cut oats
1/4 cup Red River Cereal
1 Tbsp bran flakes
1 1/2 cups of water
1/4 cup raisins (or cranberries)
2 Tbsp molasses (don't like molasses? Use brown sugar.)
dash of salt
Instructions
Add 2 cups of water into the Instant Pot. Place rack in the bottom, and insert a bowl safe for use at the high temperature.

Combine all the ingredients into the bowl, and stir well.

Lock on the lid set 30 minutes, high pressure.

Allow natural release to depressurise.
Garnish with your favourite toppings, serves up to 4 people.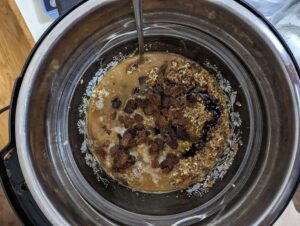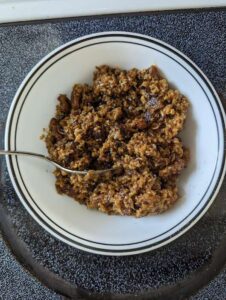 For those who enjoy Red River Cereal, but have noticed it is no longer on the shelves at your local grocery store, you can now find it at it's new online home at the Historic Arva Flour Mill.