Codename : Mountain Portage White IPA
Right up there with a good stout/porter, I enjoy an IPA, this one adds to the IPA series for the summer of 2023.
Ingredients
1 lb 8 oz Pearl pale malt (2.8L)
4 oz oatmeal
2 oz Dark Munich (9.9L)
2 oz Torrified wheat (1.5L}
2 oz white sugar
2 oz Rye malt (3.5L)

0.2 oz Chinook hops at 30 minutes

0.1 oz Chinook hops at 20 minutes

1/4 tsp Irish Moss (optional) at 15 minutes

0.1 oz Chinook hops at 10 minutes

4 ml Nottingham dry ale yeast.
Vital Stats
BJCP Style : White IPA
Anticipated ABV : 6.2%
Anticipated IBU : 53
Anticipated SRM : 5
Pre-boil SG : 1.042
Original SG : 1.060
Target SG : 1.013
Brewhouse (in)efficiency : 69%
Brew Day
Prepare 6.2L strike water, 152F.

Add the milled grains and sugar to the bag. 

Place the bag in the hot water, set the timer for 75 minutes, and maintain the temperature at 152F.

Stir occasionally.
Calibrate the sonic screwdriver.

Lift the bag out of the water, and allow it to drip into the pot. Every bit of sugar that can be extracted will benefit the end ABV.

Bring up to a boil, 212F, set the timer for 30 minutes. Add hops and Irish moss, as prescribed above.

Sanitise everything required for fermentation.

Cool to room temp, an ice-bath or a snowbank work effectively.

Prepare the yeast mixture.

Pitch the yeast to the carboy.

Transfer the wort to the carboy, splash the wort around to aerate the contents.

Store in a cool dark place for primary fermentation for 7-10 days.
Bottling Day
Prepare 0.8 oz corn sugar.

Bottle condition at least 4 weeks.
Brew Notes
Gravities were made, anticipated 6.2% ABV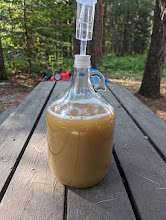 Brew day : 22-Jun-2023
Bottling day :