Codename : Mountain Portage Dork Fog
This is a bit of an experimental batch, wanting to emulate a London Fog Tea, but in beer form. Choosing a low gravity dark mild, steeping in Earl Grey tea bags, finally adding in lactose sugar for the sweetness.
Recipe inspiration : https://www.themadfermentationist.com/2014/06/earl-grey-mild-ale-recipe-and-tasting.html
Ingredients
1 lb 5 oz Golden Promise malt (2.4L)
1 oz Flaked Barley (1.4L)
1 oz Caraaroma malt (132L)
1 oz Crystal medium (67L)
1 oz Pale Chocolate (224L)
0.5 oz Chocolate malt (300L)
6 bags Earl Grey Tea (last 10 minutes of mash)

0.2 oz Sasquatch hops at 30 minutes

0.5 oz lactose sugar at 20 minutes

1/4 tsp Irish Moss (optional) at 15 minutes

0.2 oz Sasquatch hops at 0 minutes

2 ml London dry ale yeast.
Vital Stats
BJCP Style : Dark Mild
Anticipated ABV : 3.4%
Anticipated IBU : 17
Anticipated SRM : 20
Pre-boil SG : 1.028
Original SG : 1.037
Target SG : 1.011
Brewhouse (in)efficiency : 65%
Brew Day
Prepare 6.4L strike water, 148F.

Add the milled grains to the bag. 

Place the bag in the hot water, set the timer for 75 minutes, and maintain the temperature at 148F.

Stir occasionally.
Calibrate the sonic screwdriver.

Lift the bag out of the water, and allow it to drip into the pot. Every bit of sugar that can be extracted will benefit the end ABV.

Bring up to a boil, 212F, set the timer for 30 minutes. Add hops, lactose sugar, and Irish moss, as prescribed above.

Sanitise everything required for fermentation.

Cool to room temp, an ice-bath or a snowbank work effectively.

Prepare the yeast mixture.

Pitch the yeast to the carboy.

Transfer the wort to the carboy, splash the wort around to aerate the contents.

Store in a cool dark place for primary fermentation for 7-10 days.
Bottling Day
Prepare 0.8 oz corn sugar.

Bottle condition at least 4 weeks.
Brew Notes
Pre-boil gravity was 1.030 and final gravity was 1.037, anticipated ABV of 3.7%
I started with 4 tea bags at the last 10 minutes of the mash, I didn't detect enough bergamot flavour for my liking, so I added 2 more bags to get the subtle flavour I was looking for.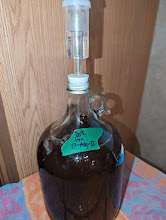 Brew day : 17-Aug-2023