Codename : Westglen Imperial Stouthorpe Pilot
Having had good success with other Imperial Stouts, including, but not limited to fortifying a previous batch with bourbon, this one will be fortified with Scotch whisky, specifically Glenmorangie 10 yo, ergo the clever name 🙂
As there is an increased cost of resources to make this batch, I decided to scale it down by one half, and call it a pilot batch. Just in case it doesn't work, the cost of the experiment is not outrageous.
Recipe inspiration : David Heath's Bourbon Stout
Ingredients
1 lb 4 oz Maris Otter (3.8L)
3 oz oatmeal (1.3L)
1 oz Carafa Speciall III  (525L)
1 oz Crystal dark malt (100L)
1 oz Pale chocolate (225L)
0.5 oz Torrified wheat (2L)
0.5 oz Maltodextrin (2.8L)
1/4 Campden tablet when preparing strike water (optional)

0.2 oz Cascade hops at 30 minutes

0.2 Cascade hops at 20 minutes

1/4 tsp Irish Moss (optional) at 15 minutes

1/2 tsp yeast nutrient at 15 minutes
0.2 Sasquatch hops at 10 minutes
0.2 Sasquatch hops at 5 minutes

3 ml Mangrove Jack New World Strong ale yeast.
Vital Stats
BJCP Style : Imperial Stout
Anticipated ABV : 8.1% (about 10% once fortified)
Anticipated IBU : 71
Anticipated SRM : 34
Pre-boil SG : 1.057
Post-boil SG : 1.083
Original SG : 1.083
Target SG : 1.021
Brewhouse (in)efficiency : 70%
Brew Day
If you don't want to do the mash steps, do the whole mash at 152F for 75 minutes, then skip to the part about lifting the bag out.

Prepare 5.2L strike water at 122F.

Add the milled grains to the bag.

Place the bag in the hot water, set the timer for 15 minutes, and maintain the temperature at 122F.

Stir occasionally.
Raise the temperature to 145F, set the timer for 30 minutes.
Stir occasionally.
Raise the temperature to 158F, set the timer for 30 minutes.
Stir occasionally.
Calibrate the sonic screwdriver.

Lift the bag out of the water, and allow it to drip into the pot. Every bit of sugar that can be extracted will benefit the end ABV.

Bring up to a boil, 212F, set the timer for 30 minutes. Add hops, maltodextrine, yeast nutrient and Irish moss, as prescribed above.

Sanitise everything required for fermentation.

Cool to room temp, an ice-bath or a snowbank work effectively.

Prepare the yeast mixture.

Pitch the yeast to the carboy.

Transfer the wort to the carboy, splash the wort around to aerate the contents.

Put the airlock on the carboy.

Store in a cool dark place for primary fermentation for about 14 days.

On day 7, add 6 grams of oak chips to a mason jar, cover with 60 ml of bourbon. Agitate daily to allow the whisky to infuse with the oak chips
Bottling Day
Prepare 0.4 oz corn sugar.

Filter whisky mixture through a coffee filter to ensure oak splinters do not enter the bottling pot.
Bottle condition at least 6 weeks.
Brew Notes
Based on the video by David Heath, he speaks of using two different chocolate malts to layer in flavours. This will be my working guideline going forward.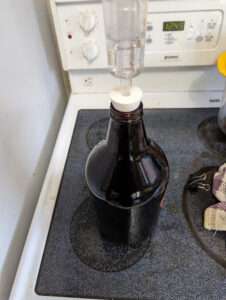 Brew day : 19-Sept-2023