Codename : Westfort Fog Alethorpe
A previous fog brew turned out with good success, so I am trying another variation with an American Pale Ale (APA). Along with the mash in of grain, steep in Earl Grey tea, then during the boil introduce lactose to emulate a London Fog tea. To use up base malts, I combined pilsner and Golden Promise, thereby adding this one to the helter-skelter series
Ingredients
1 lb 1 oz Pilsner malt (2L)
9 oz Golden Promise malt (2.4L)
3 oz oatmeal
1.5 oz Crystal medium malt (67L)
1 oz Roasted Barley malt (400L)
1/4 Campden tablet when preparing strike water (optional)

0.2 oz Chinook hops at 30 minutes

2 oz Turbinado sugar at 20 minutes
2 oz Lactose sugar at 20 minutes

1/4 tsp Whirlfoc (optional) at 15 minutes

0.2 Cascade hops at 10 minutes
0.2 UK Cascade hops at 0 minutes.

3 ml Safale English dry ale yeast.
Vital Stats
BJCP Style : American Pale Ale
Anticipated ABV : 5.4%
Anticipated IBU : 41
Anticipated SRM : 8
Pre-boil SG : 1.046
Post-boil SG : 1.075
Original SG : 1.055
Target SG : 1.014
Brewhouse (in)efficiency : 70%
Brew Day
If you don't want to do the mash steps, do the whole mash at 152F for 75 minutes, then skip to the part about lifting the bag out.

Prepare 5.3L strike water at 122F.

Add the milled grains to the bag.

Add the tea bags to the hot water, remove after about 20 minutes, or when the aroma of bergamot reaches your nose.

Place the bag in the hot water, set the timer for 15 minutes, and maintain the temperature at 122F.

Stir occasionally.
Raise the temperature to 145F, set the timer for 30 minutes.
Stir occasionally.
Raise the temperature to 158F, set the timer for 30 minutes.
Stir occasionally.
Calibrate the sonic screwdriver.

Lift the bag out of the water, and allow it to drip into the pot. Every bit of sugar that can be extracted will benefit the end ABV.

Bring up to a boil, 212F, set the timer for 30 minutes. Add hops, sugars and Whirlfoc, as prescribed above.

Sanitise everything required for fermentation.

Cool to room temp, an ice-bath or a snowbank work effectively.

Prepare the yeast mixture.

Pitch the yeast to the carboy.

Transfer the wort to the carboy, splash the wort around to aerate the contents.

Add one litre of water for the top-up to the carboy.
Put the airlock on the carboy.

Store in a cool dark place for primary fermentation for 10-14 days.
Bottling Day
Prepare 0.7 oz corn sugar.

Bottle condition at least 4 weeks.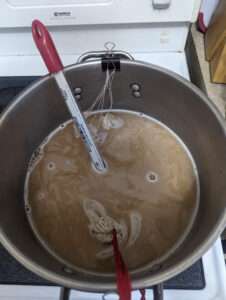 Brew Notes
The oatmeal addition helps enrich the fogginess of the beer.
I got a little over-zealous adding the top-up water, anticipated ABV is 5.1%
Brew day : 24-Oct-2023