Codename
: Ordinary Bitter Spent Grain Raisin Cookies.
Once the beer has been brewed, what does one do with the spent grain? Make cookies!
Ingredients
1/3 C butter, softened

1/3 C shortening, softened

2/3 C brown sugar

2 large eggs

1/2 tsp vanilla

1 ½ C spent grain

2 C flour

1 tsp baking soda

1/2 tsp salt

1/2 C raisins (feel free to substitute cranberries or chocolate chips)
Notes
Consider putting the spent grain through a food processor. I have tried it au naturelle, and processed. While I like the extra texture of the spent grain fresh from the batch, others may appreciate the slightly smoother texture.
Instructions
Preheat the oven to 375 degrees.

Beat butter, shortening and sugar together in a large mixing bowl.

Add eggs, mixing well.

Add grain, flour, baking soda and salt into the wet mixture, mixing well after each addition.

Finally add in the raisins, the recipe says 1/2 cup, be we all know you measure this one with the heart, not the actual cup 🙂

Drop spoonfuls onto a greased cookie sheets and bake for 10-15 minutes or until golden brown.

Cool on a wire rack. Makes approximately 2 dozen cookies.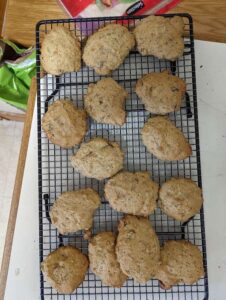 This batch of cookies was made with the spent grain from my Westfort Ordinary Bitterthorpe.