Codename : Westfort Bière Outrageant Redux
My first attempt at this beer, mistakes were made, fortunately nothing I would consider a brew-fail as I mostly  recovered on the fly. I liked the taste of the final product, so I was determined to do it again, but do it right.
A little bit about the style
Calling this a farmhouse beer invites comparisons to Saison, which has a completely different balance – Bière de Garde is malty and smooth, while Saison is hoppy and bitter. Actually has more of a similarity in malt profile to a Bock.
Ingredients
1 lb 12 oz Pilsner malt (2L)
6 oz Munich maltt (5L)
2 oz Amber malt (28L)
2 oz Caramel malt (30L)
0.5 oz Crystal medium malt (67L)
2 oz Belgian Candi Sugar (17L)
1/4 Campden tablet when preparing strike water (optional)

0.2 oz Cascade hops at 30 minutes

1/4 tsp Irish Moss (optional) at 15 minutes

0.2 Cascade hops at 5 minutes

5 ml French Saison dry ale yeast.
Vital Stats
BJCP Style : Bière de Garde
Anticipated ABV : 7.2%
Anticipated IBU : 22
Anticipated SRM : 13
Pre-boil SG : 1.059
Post-boil SG : 1.089
Original SG : 1.065
Target SG : 1.010
Brewhouse (in)efficiency : 70%
Brew Day
Prepare 5.5L strike water at 158F.

Add the milled grains to the bag.

Place the bag in the hot water, set the timer for 75 minutes, and maintain the temperature at 158F.

Stir occasionally.
Calibrate the sonic screwdriver.

Lift the bag out of the water, and allow it to drip into the pot. Every bit of sugar that can be extracted will benefit the end ABV.

Bring up to a boil, 212F, set the timer for 30 minutes. Add hops, candi sugar and Irish moss, as prescribed above.

Sanitise everything required for fermentation.

Cool to room temp, an ice-bath or a snowbank work effectively.

Prepare the yeast mixture.

Pitch the yeast to the carboy.

Transfer the wort to the carboy, splash the wort around to aerate the contents.

Add one litre of water for the top-up to the carboy.
Put the airlock on the carboy.

Store in a cool dark place for primary fermentation for 10-14 days.
Bottling Day
Prepare 0.7 oz corn sugar.

Bottle condition at least 6 weeks.
Brew Notes
Needed 90 minutes of mashing to achieve the pre-boil gravity, all other measurements were made, 7.2% ABV anticipated.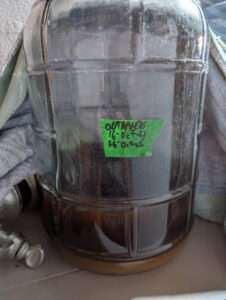 Brew day : 16-Oct-2023